How to implement OKRs at your small business
Metadata
Author: [[Khe Hy]]
Publisher: [[radreads.co]]
Published Date: 2022-06-25
Highlights
Here's how the lines of communication multiply as you go from 3 employees to 14 employees: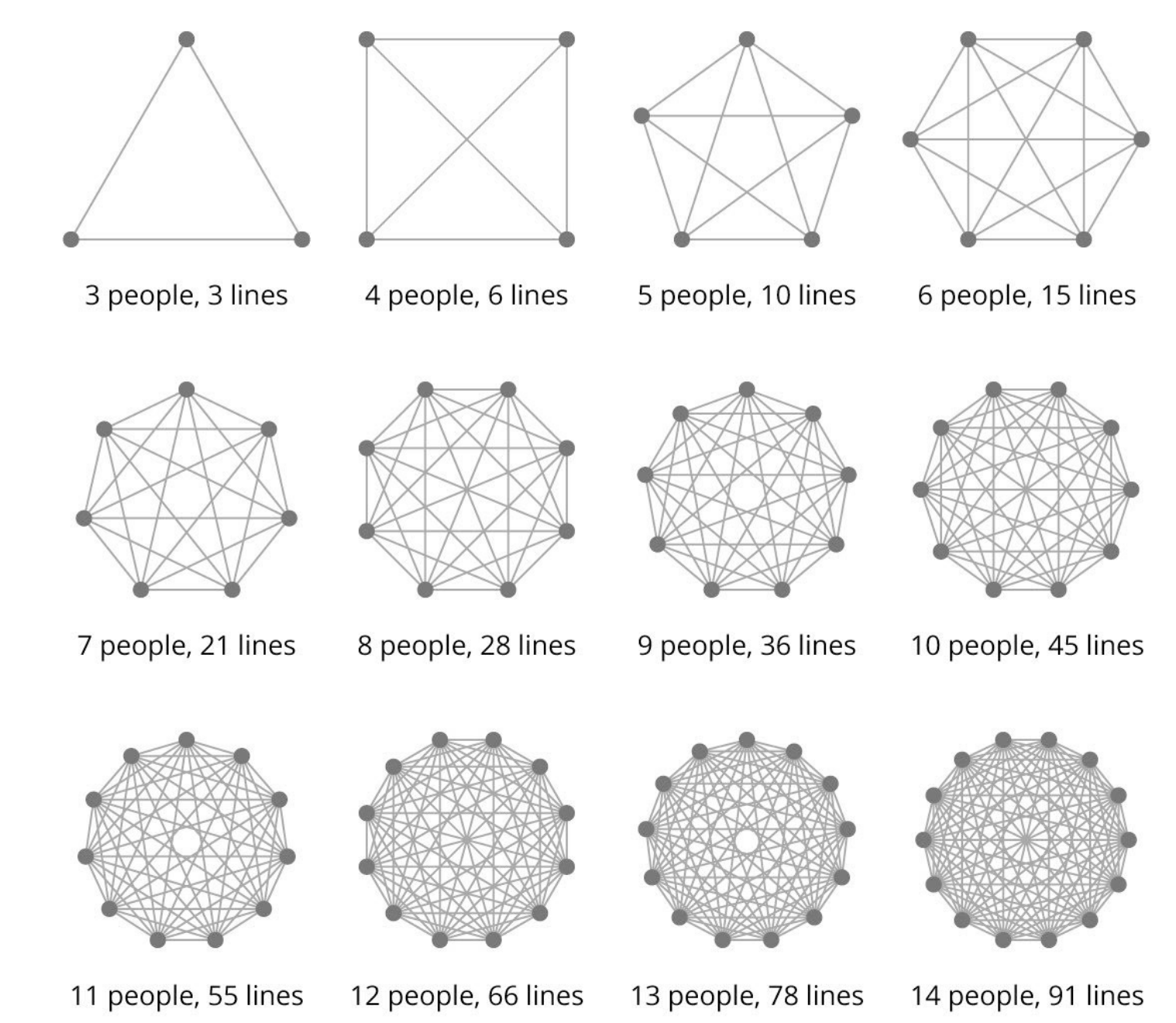 Source
The average manager has 7 direct reports (and assuming 40 hour work weeks) is responsible for the direction of 280 hours a week.
"If the ladder is not leaning against the right wall, every step we take just gets us to the wrong place faster." Steven Covey
I quickly came to the realization that one of my most important roles was to set the direction to ensure that our ladder was leaning against the right wall.
support our broader vision while keeping us accountable on a much shorter time frame.
system to succeed, it needed to be:

Lightweight
Actionable
Easy to maintain
Understood by everybody
Supportive of experimentation and pivots

The purpose is to take a longer-term goal (i.e. an Objective) and pair it against some measurable milestones (i.e. some Key Results).
Why is this OKR important to the company?
How will the company be changed if we succeed?
look for a "unifying theme" that will spread across departments:
Objective, Perdoo's blog recommends three types of Objectives:

Build: Create something that didn't exist before (like an onboarding sequence)
Improve: Make something that already exists better
Innovate: Do something drastic, on your product, marketing or organizational structure.

One of the trickiest parts of Key Results is that they need to be outcomes, not outputs.
These are a few poor key results:

Interview 5 CTO candidates
Make 20 outbound sales calls
Ship 3 new features

Instead, you'd want to measure the outcome of these efforts:

Make 3 new hires
Generate $10,000 in new sales
Increase time user engagement to 30 minutes a day

we report weekly on our progress in a dedicated Slack channel.
Linking
Enjoy this post?
Notes mentioning this note
There are no notes linking to this note.