Metadata
Author: Anne-Laure Le Cunff
Publisher: Ness Labs
Published Date: 2019-10-25
Tags:
Highlights
---
Great 2x2 for the Eisenhower Matrix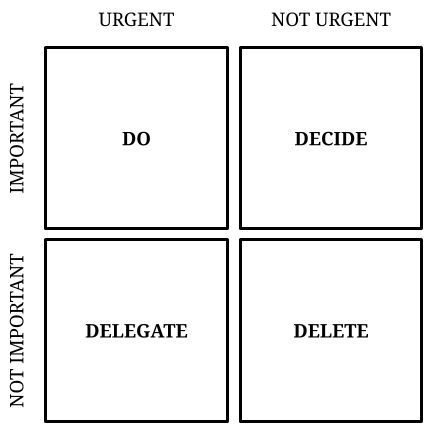 ---
Eisenhower matrix. It's a decision-making method based on the importance and urgency of what's on your to-do list.
Important tasks have an outcome that brings you closer to achieving your goals,
Urgent tasks demand immediate attention because the impending consequences of not dealing with them.
natural tendency to focus on unimportant and urgent activities.

Note: This relates well with the $10k framework

categorise them based on the following criteria. 1. Urgent and important 2. Important but not urgent 3. Urgent but not important 4. Neither urgent nor important
Eisenhower matrix
Linking
Enjoy this post?
Notes mentioning this note
There are no notes linking to this note.