Management 3.0 - Management for Complex Domain
Topic
Management 3.0 by Jurgen Appelo. Management in Complexity.
When might this be relevant to you?
This can help you when you have question like
What management aspects to consider in complex domains (that most of us are in)?

What should I focus on as a leader to provide leadership & management that matches requirements from working in complex domains?
Potential usages
Management aspects by on the Management 3.0 model

Align Constraints
Develop Competence
Grow Structure
Improve everything
Energize people
Empower Teams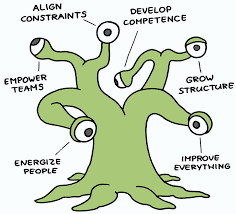 My offer
Consult with leaders with aspects of Management 3.0.
Where did I apply that?
I was Co-Creator and Facilitator of the famous Management 3.0 meetup in Munich

I attended one of the first Management 3.0 courses (hosted by Jürgen Dittmar, directly related with Jurgen Appelo and Jeff Sutherland)
My level of expertise
Expert
Enjoy this post?
Notes mentioning this note
Discovery of core values
<!DOCTYPE html PUBLIC "-//W3C//DTD HTML 4.0 Transitional//EN" "http://www.w3.org/TR/REC-html40/loose.dtd"> Discovery of Core Values